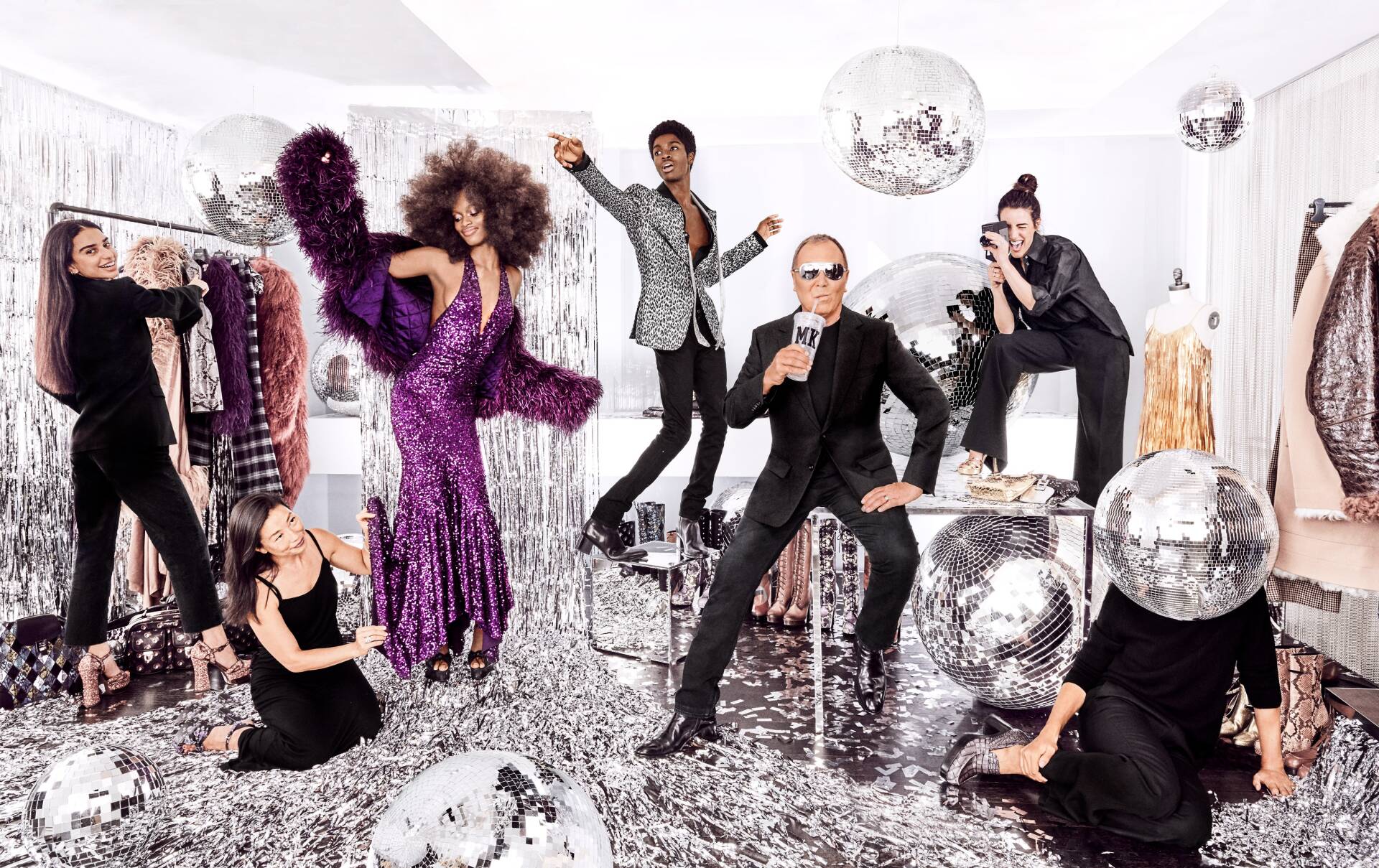 How did the Michael Kors brand become a key player in fashion and luxury?
You can recognize him by his imposing build, his tanned complexion and the tinted sunglasses he never takes off: Michael Kors, the man behind the brand that bears the same name, is today a true icon in the fashion world. How did this company, which started out in a small New York flat, become the large, billion-dollar empire it is today? A look back at the incredible journey of a brand that has given a new lease of life to the American dream!
Michael Kors: a start that did not presage such success!
Living in a small flat in the heart of New York in the 1980s, Michael Kors worked as a salesman in a boutique on 57th Avenue. At the time, he was already drawing some sketches for his employer until one day, a Bergdorf Goodman manager pushed open the doors of Lothar's to meet the famous designer behind the exceptional creations.
Interested by the words of this manager who told him to let him know when he was thinking of launching his own line, he started to make drawings that same evening. Sewing machines were rented, three seamstresses took over the improvised workshop in Kors' own flat, and private sales at Bergdorf Goodman: the machine was launched much faster than he expected.
Michael Kors: the resounding success of affordable luxury
"The bag has to be practical and versatile, yet luxurious,
said Michael Kors to explain the thread that leads to the creation of these it-bags, which can be found in the wardrobes of American stars as well as in everyday women who love good things. Michelle Obama, Gwyneth Paltrow, Jessica Alba, Kim Kardashian are just a few examples of celebrities who have signed up for the MK brand.
Artistic director of the famous Céline brand until 2003, Michael Kors then focused on launching his own line. From affordable luxury that targets the "HENRY" (High Earners Not Reach Yet), he offers handbags under $500. More than 1,500 boutiques are opening, as well as outlets in major shopping streets, such as Galeries Lafayette.
Michael Kors: a brand that listens to its customers
Far from confining himself to a room behind a desk to design his models, Michael Kors goes out to meet his customers. He travels, he discovers, he sets out to meet the women he wishes to serve.
"I'm not one to sit in a room for days on end and design. I like to work with people and see an idea or a moment develop throughout the process of creating the collection," said the brand's number one. For him, listening to women talk with their office colleagues, taking part in discussions with friends, are the best ways to get to know the real expectations and practical problems related to women's dressing.
It is in this sense that the brand makes a point of proposing bags that women can actually use: Miranda and Izzy, classic tote bags that all women should have for studying, working, shopping, travelling... Or the little Selma shoulder bag that you throw over your shoulders for days when you have to run around; and why not complete the whole with the Elsie minaudière for special occasions and evenings? Michael Kors' vision is to move away from luxury bags that shine for one season and then quickly become out of fashion, and to offer bags that a woman can wear several times over several years.
Social networks? This is now the brand's new playground. For its founder, it is a form of democratisation of fashion and luxury insofar as the fashion shows are no longer reserved for a certain sphere of the population. Everyone can express their opinions on the collections, especially the everyday women that the brand targets and who show what they are and what they aspire to be. And it is these identities that Michael Kors tries to reproduce for each collection while trying to stay in tune with the times.
Michael Kors: acquisitions to conquer the global market
If Michael Kors has succeeded in taming the European and Asian markets, it is thanks to acquisitions made specifically to increase its visibility beyond the American borders. After acquiring the British shoe company Jimmy Choo, the brand imposed itself on the Old Continent with the purchase of the Italian house Versace. An ambitious and risky gamble according to analysts who have subtly pointed out that while Michael Kors handbags are worth around $500, Versace's cost at least three times that.
Is the brand changing direction? The answer is no!
It is simply a marketing strategy that allows Michael Kors to combine affordable luxury with sought-after luxury, which in essence must be rare. And then, above all, it is a question of diversifying the offer towards perfumes, accessories in addition to Michael Kors glasses and watches, etc.
In China, the eponymous brand also buys exclusivity for its products in the Middle Kingdom to ensure that it is profitable in the Asian market. Thanks to all these transactions, the brand is shining brightly and is not about to disappear from the picture.
In short, if Michael Kors is today a reference in the world of fashion and luxury, it is thanks to the talent, hard work and sense of listening of a founder who understands his customers and redefines luxury in a more accessible version. Acquisitions have propelled the brand further to the top, but the human dimension of this brand, known for its bags that are found all over the world, has a lot to do with it.
And let's not forget that beyond the business and everything that surrounds him, the brand's founder remains a philanthropist committed to the fight against world hunger. Not only does he work in the US, but he also supports the United Nations World Food Programme and works with foundations and charities. "The truth is, there is more than enough food on this earth to feed the world, so we are working to raise awareness and funds to help distribute more meals around the world," Michael Kors.