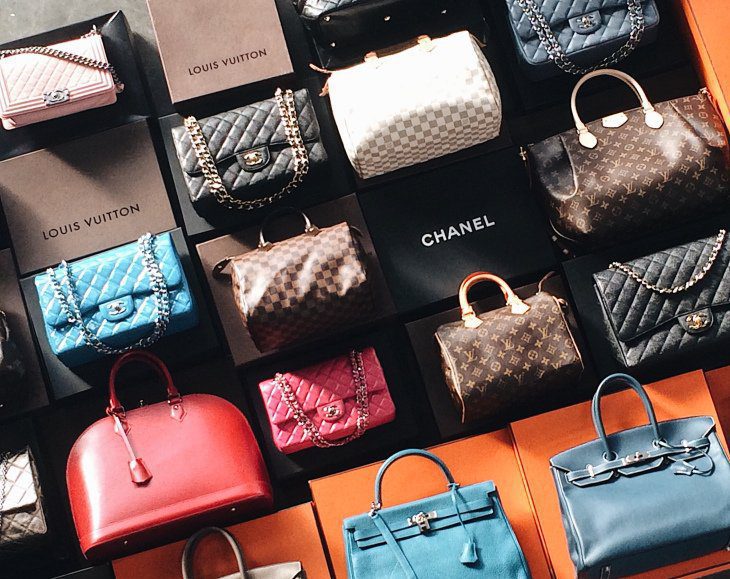 What are the best luxury bag brands?
Fashion accessories, emblems of femininity and good taste, luxury bags have become a staple of women's dressing rooms. While quality workmanship, careful detailing and luxurious signatures continue to characterise designer handbags, luxury is becoming more accessible than ever, and is almost mainstream. With the many names and references that keep coming up when discussing luxury bags, it's hard to know which brands are the best. Who are the brands that are known for making the best high-end handbags? Check out our top 10!
The Louis Vuitton brand made a dramatic entrance into the fashion scene in the 19th century and became known worldwide. Its chequered pattern and the LV monogram printed on its luxury handbags are the main signatures of this brand which will continue to be a major player in the fashion world.
A Parisian house known internationally for its quilted leather handbags and its emblematic metallic closure, Chanel remains one of the references in the world of feminine beauty. When the brand tastefully and dexterously handles large chains on the handles or body of its bags, the result is sublime. It's not surprising that Chanel bags are still in vogue thanks to the right balance between luxury, originality and a contemporary rock edge.
You'll recognise Hermès bags by the luxury they exude. In fact, the brand is responsible for one of the most expensive designer handbags in the world: the Birkin d'Hermès, which tastefully features gold and silver fittings. Despite this, Hermès offers relatively affordable models. Hollywood stars are snapping them up and want to wear the logo of this house, which is associated with great prestige, on their arms or shoulders.
What makes Gucci handbags so special? Without a doubt, the fact that each model is unique and has almost iconic features. What this tells us is that Gucci never runs out of creativity, that the brand's luxury bags exude cachet and personality. It's easy to see why those looking to stand out automatically turn to Gucci.
YSL, the acronym where the letters overhang each other on a gold or silver metallic support, is the distinguishing feature of Yves Saint Laurent handbags. Avant-garde and modernist, this brand took its first steps in the 1960s. Its bold designs and ingenious ideas led it into the category of luxury handbag designers for modern women. Heavy chains on structured bags, leather worked for a plush finish: the brand has something to surprise!
Launched in the early 1900s, Prada, as we know it today, did not break through until 1970. Since then, the brand has distinguished itself by the luxury, discretion and elegance that accompany its minimalist handbags. With a clean design, a plain look broken only by the charm of a logo recognisable by the brand name on a triangular base, Prada bags have shed the artifice to become the benchmark of chic.
The darling of stars and celebrities, Dior handbags satisfy all tastes! In addition to those that break the codes with original shapes and unsuspected colour combinations, other Dior luxury bags are imbued with a Frenchy-touch that manifests itself through delicate colours, sumptuous shapes and iconic fittings.
The meticulous work of grained leather on luxury bags with well accentuated geometric shapes; this is without doubt one of the main DNA of the Givenchy brand. Like Prada, the brand relies on sobriety to achieve elegance. Without any artifice or heavy detailing that might detract from the chic of Givenchy women's bags, this great fashion house is discreet when it comes to accessories.
1,500 shops and 550 points of sale worldwide: this demonstrates the reputation acquired by this American brand founded in the late 1980s. Already at the beginning, its founder, Michael Kors, wanted to reach the New York elite, attached to a certain taste of luxury.
Today, this remains the signature of the brand, which is dedicated to a range as varied as it is original to satisfy women, whether they tend towards a classic or extravagant style. Michael Kors bags include shoulder straps, cross-body bags, backpacks, shoulder bags, clutches, satchels... In short, bags for everyday wear and special occasions, revisited with a luxurious touch.
For 70 years now, Celine luxury bags have proudly sat on the arms or shoulders of celebrities around the world. Against all odds, even those who are known for their extravagance find joy in the minimalist, almost sporty design of Celine bags.
The brand is well known for its tasteful use of high-quality luxury fabrics. These materials enhance the famous Céline bags decorated with metal locks. Of course, calf leather is always present in many of the brand's collections, such as the Box Bag Céline, the iconic box-shaped bag.