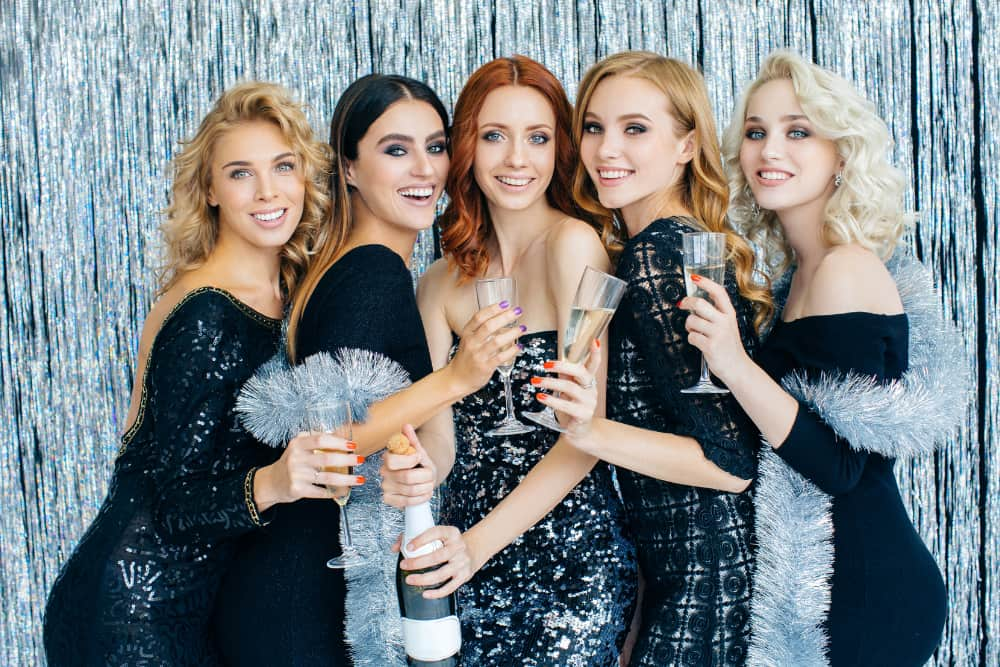 Choosing the right outfit for New Year's Eve
The New Year is fast approaching. Do you have nothing to wear, yet you intend to end the year in style, while showing off on New Year's Eve? Don't panic, here are some ideas on how to choose the perfect outfit to wear on New Year's Eve.
First, find out what type of event it is
Your outfit depends on the type of party you are going to: at a friend's house, with your family, in a nightclub, etc.
Casual evening
You can opt for a jumpsuit; palazzo trousers; shorts and even jeans can be considered, accompanied by a blazer to give a chic edge.
Formal evening or "black tie
When it says "black tie" on the invitation card, think immediately about wearing something dark. A long gala dress is perfect, but you can also wear a pantsuit.
A woman's suit or dinner jacket is welcome, as seen recently on the red carpet.
Chic evening or cocktail party
For the more confident ladies, above-the-knee dresses are recommended for New Year's Eve 2022. By the way, don't be afraid to choose short New Year's Eve dresses made of shiny fabrics. These do indeed give more luxury and elegance.
Choose an outfit according to your body type
To enhance your feminine figure, you must choose your outfits according to your morphology.
Morphology A
To emphasize your upper body, choose a trapeze or empire dress, a wrap dress or a smocked dress.
For women with this pyramid shape, tight-fitting dresses and dresses with horizontal stripes that amplify curves should be avoided at all costs.
Morphology H
If you have a rectangle shape, you should opt for a strapless dress or a nice neckline to highlight your body and especially your chest.
So, avoid flared dresses.
Morphology I
To give volume to your slim figure, choose bare-back or low-cut dresses, trapeze dresses with textures or wrap dresses.
Do not wear tight or closed dresses, long dresses and XXL cuts.
Morphology O
For curvy women, choose flowing dresses with a dark, solid colour or a V or boat neckline.
Avoid: short skirts, short dresses and pleats.
Morphology V
If you have an inverted triangle shape, the "ball" effect is perfect to strengthen your pelvis and rebalance your figure. So choose a skater or peplum dress.
Volume on the top should be minimised. Strapless dresses, dresses with shoulder straps and thin straps should therefore be avoided.
Morphology X
Cover-up dresses, tight fitting dresses and long dresses with a belt are perfect for women with an hourglass shape.
Avoid: straight outfits and flashy prints.
Find a comfortable pair of shoes
Pumps and heels are the way to go. But you can also choose derbies to sublimate your nice dinner jacket or trousers. You can also choose ankle boots or boots to give a glam rock look.
In any case, be sure that your shoes will not cause you to get blisters.
Accessories not to be overlooked
The accessory is the finishing touch to your outfit. Think hair accessories, jewellery...
The bag
A small patent or leather bag. Elegant in silver or gold.
A clutch bag, choose a different colour to your outfit.
A clutch: a must-have evening accessory to add a touch of elegance to your outfit.
Make-up
In order to shine on New Year's Eve, dare to do a more elaborate make-up than on Christmas Eve.
Opt for luminous make-up, nude with rhinestones, smoky eyes...
But be careful with outfits that are already very bright and colourful, you must avoid overdoing it to avoid a fashion faux pas!