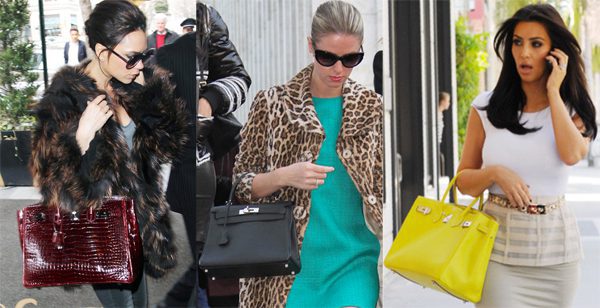 LUXURY BAGS: 2 REASONS WHY STARS LOVE THEM
Stars have an unfailing love affair with luxury bags. Caitlyn Jenner and her Whitney from Max Mara. Kim Kardashian and her Pandora Messenger from Givenchy. Catherine Deneuve and her day bag made by Saint Laurent. This affection of stars for their luxury bags is as old as the world, and sometimes so intense. Jackie Kennedy-Onassis, for example, admired the Gucci that the house dedicated a bag to her. Lady Di was such a fan of one of the Dior that the brand renamed this model Lady Dior. 
So it makes sense to ask the question: why do stars like luxury bags so much? 
A very careful manufacture 
How would you define a luxury item if asked? Although definitions may vary slightly from one individual to another, everyone agrees on the known qualities of a luxury item. Specifically, a luxury item is considered to be a valuable and rare item. Luxury bags fall under the same definition. 
The rarity of a luxury bag is conferred by its unique piecesThese are sometimes obtained as special orders and are relatively difficult to acquire. In addition, the know-how that led to the birth of the bag. Many luxury bags are made entirely of by hand with almost surgical precision. 
This explains why the retail price of a luxury bag is not the most attractive on the market. 
A pink crocodile Birkin bag from Hermès is rarer and much more expensive than a steel Oyster from Rolex. This is to say that it is not just a question of money. 
Like all of us humans, who would say no to such manufacturing neatIt doesn't matter if it's from Louis Vuitton or Chanel. Moreover, buying luxury accessories shows that you belong to a privileged class of society. 
Even if some people consider this to be a mere "show-off", it must be acknowledged that luxury bags are often worth their weight in gold and are not accessible to the average person. 
Finally, luxury bags are like vintages that improve with timeThe materials used to make them are becoming increasingly scarce every year and demand is rising. 
Celebrity marketing
Who knows? Kim Kardashian may be showing off her Givenchy Pandora Messenger with the intention of getting a special dedication from the brand. Such recognition from such a reputable brand would go a long way in helping the star with her business. And it would please some people to hear that this is the reason why Kim and her bag are inseparable. 
It is impossible to confirm or deny the true intentions of this and other stars. What is more obvious, far more common, and far more beneficial to the stars and the brands they carry, is celebrity marketing. 
Come on, a quick reminder for those who skipped a few celebrity news classes: celebrity marketing is a marketing strategy that is very popular with big brands, which consists of create a partnership with a star. Brands use the fame of stars as a communication tool. The brands win, and so do the stars. It's a win-win situation. 
The growth of celebrity marketing in recent years is another reason why stars are opting for luxury bags. 
Celebrity marketing or not, one thing is for sure, most women, stars or not, love luxury handbags, and this is not about to change!
Find all our products here