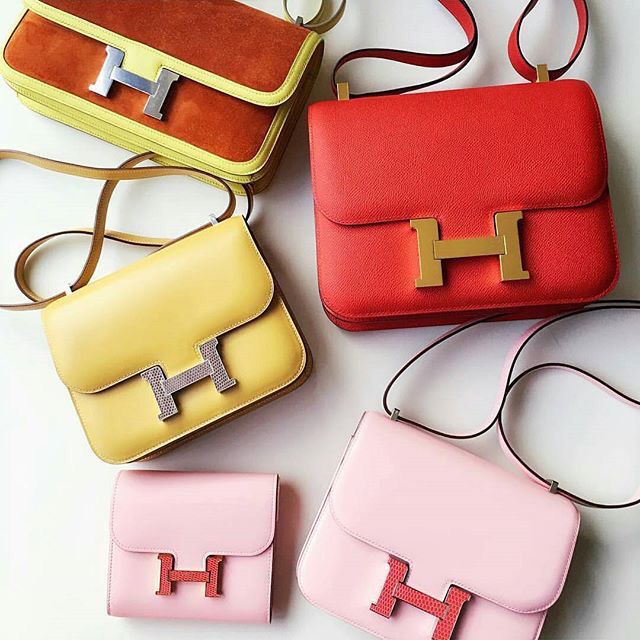 Luxury handbag: Which size to choose?
A must-have in any wardrobe, a handbag can make or break a look. Although the right handbag is one of the key pieces of an outfit, it is difficult to choose when it comes to buying a new model. Whether it's a tote bag, a clutch or a satchel, there are a variety of styles and sizes available from leading designers. Follow our guide to choosing the perfect bag size for your body type.
Just like clothes, handbags also have their own standard in terms of size and measurement. Indeed, each size corresponds to specific dimensions. We have listed the handbag sizes and measurements below:
- Small
A small handbag is about 12 to 30 cm wide. The most common small bags include clutches, clutch bags and minaudières. Miniature handbags, or micro bags, are one of the biggest trends of the moment.
- Medium
A medium-sized handbag is about 30 to 40 cm wide. It can hold a mobile phone, a wallet, and small cosmetics such as lipstick and a pocket novel.
- Large
A large handbag is much more spacious than a small or medium-sized handbag. It is between 40 and 50 cm wide and is perfectly suited for active women. Tote bags and hobo bags belong to this category of handbags.
- Very large
The largest of all, extra-large handbags are usually called tote bags. They are over 50 cm wide and are large enough to hold a laptop.
Knowing the dimensions of the bags is essential to be able to effectively choose the right size for your body type.
A handbag is as practical as it is essential, but it also has to be elegant and aesthetic. This accessory can indeed make a silhouette look unharmonious if it is badly chosen.
The first rule in terms of choosing a handbag is to choose a model that is the opposite of your body type. In other words, for women with an O-shaped or round body, it is advisable to opt for rectangular and structured bags such as tote bags. With well-defined proportions, this type of handbag allows you to enhance your figure. However, XXL or very large bags should be avoided as they blur the figure.
If you are small, opt for small handbags such as clutches or even micro bags. You can play with shapes and materials to accessorise them. However, you should avoid heavy bags such as satchels. This will show your small size and hide your figure. Prefer minaudières instead.
If you are tall, choose bags that are loose and fit your body. Bags that are too wide, too big or too small will not flatter your figure. Similarly, bags with very short straps will make you look taller than you are; draw attention downwards with a bag that has a longer strap.
There are as many types of bags as there are body types.
- Tote bag
Every woman needs a reliable tote bag with plenty of storage space, which is also very comfortable to carry. For those who don't know, a tote bag is a large, unopened bag with two handles that is carried on the shoulder. It's an extremely versatile bag, perfect for all occasions, whether it's shopping, going to class or to work.
- Shoulder bag
This is one of the handbag designs that most women have in their wardrobe. It has all the features you would normally look for in a bag, such as zipped pockets, compartments and a mechanism to close it tightly. As the name suggests, it is a casual bag designed to be carried over one shoulder with thinner and shorter straps than a tote bag.
- Hobo Bag
Typically, this type of handbag is soft, half-moon or trapezoidal in shape with a single handle and a curved zip. However, other more square variants with two handles and a snap closure are also very common.
- Messenger bag
The functionality of a messenger bag is appreciated by both men and women. The name comes from the bags traditionally used by postmen, but the modern version is more elegant. They are medium-sized rectangular bags with a long, thick, wide strap and a folding front opening with clasp.
- Belt bag
This type of bag has been a big hit with Instagram influencers this year. This small bag has the advantage of being able to transcend an outfit, while also meeting practical needs. A belt bag usually comes in the form of a small zipped pouch with a buckled belt as a strap, intended to be worn around the waist. It is also known as a fanny pack, although belt bags lean more towards style and class than utility, unlike fanny packs.
- The pocket
A must-have for those who want to be chic and elegant, a clutch is a small, flat handbag without straps or handles. This type of bag is available in a wide range of shapes and designs. It is designed to be held in the hand or under the arm, with minimal space inside for small items such as money, lipstick or travel beauty products.
Although handbags are primarily practical, they can also be used as a fashion accessory to complement or add interest to an outfit. Don't be afraid to experiment with different options to find out what works for you based on your lifestyle needs, personality and the occasion.